Here's a brief primer on Thermage.
What is Thermage?
Thermage is a safe, non-invasive skin-tightening procedure that is clinically proven to help smooth wrinkles and tighten skin. The treatment delivers natural looking results with little to no downtime. It is safe for all skin colors. Thermage can effectively treat skin on most body parts, including the face, eyes, lips, tummy, arms, hands, thighs and buttocks. Thermage can also temporarily reduce the appearance of cellulite.
When do the results appear, and how long do they last?
Results after a Thermage treatment appear gradually, over the first 2 to 3 months. Some patients notice visible tightening as early as two weeks following a single treatment. Thermage results can last for up to two years.
How many treatments will I need?
Thermage delivers results in a single treatment for most patients. Occasionally a second treatment is recommended in order to obtain the desired results. Our medical aesthetician will determine with Dr. Brown the course of treatment that is right for you based on your needs and goals.
For more details on this treatment, see our Thermage page.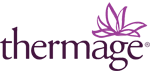 Special Offer, ends December 31st, 2013:
Receive a complimentary facial with a Silkpeel after your Thermage treatment – $375 value!
See full offer details