Although breast implant rupture is rare (estimates are 0.7% per implant per year), when an implant breaks, it can cause deflation or distortion of the breast. If left for a prolonged time, the changes to the breast can be significant requiring the surgeon to use advanced reconstructive techniques to either remove or replace the implants. As a recognized expert in plastic surgery of the breast,
Dr. Brown
is often asked to assist and manage with these difficult problems. The cases below represent some of the patients that
Dr. Brown
has treated with implant rupture.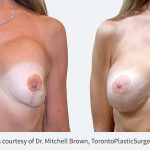 Multiple previous procedures including breast lift, implant replacement and correction of capsular contracture. Now presenting with left breast implant rupture, capsular contracture, severe asymmetry and abnormal breast shape. Treated with implant removal, replacement of new 235 cc silicone gel breast implants under the pectoral muscle and revision of breast lift. Before and 1 year after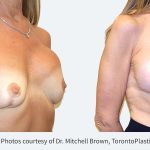 Multiple previous procedures including breast lift, implant replacement and correction of capsular contracture. Now presenting with left breast implant rupture, capsular contracture, severe asymmetry and abnormal breast shape. Treated with implant removal, replacement of new 235 cc silicone gel breast implants under the pectoral muscle and revision of breast lift. Before and 1 year after