Modalities we use as part of your Bela MD 6-in-1 Advanced Hydra Facial treatment
Diamond microdermabrasion
Antioxidant boost
Ultrasonic extraction
Face and neck toning
Infusion of targeted serums
Microcurrent stimulation
Powerful Infusion Serums
During your treatment, one or more of the following infusion serums are combined with medical grade exfoliation, muscle toning circulation boost, specialized hydrogen water to promote an antioxidant effect, and microcurrent stimulation (electroporation) to deliver the serums to your skin.
bBright – An exclusive blend of potent ingredients to nourish and hydrate, soothe skin, improve skin texture and tone, brighten and reduce signs of fatigue. Brightens dull, lackluster skin. For all skin types.
bCalm – If you are looking to improve the skin's firmness and elasticity, bCalm is for you. This treatment infusion will boost hydration, reduce fine lines and wrinkles, and replenish the skin barrier. For all skin types.
bClear – Formulated to help reduce excess oil, calm and sooth the skin and restore optimal hydration. For all skin types, especially suitable for skin congestion, acne-prone, or blemished skin.
bEven – This infusion serum reduces the appearance of age spots, brightens the complexion and restores skin's natural radiance. For all skin types.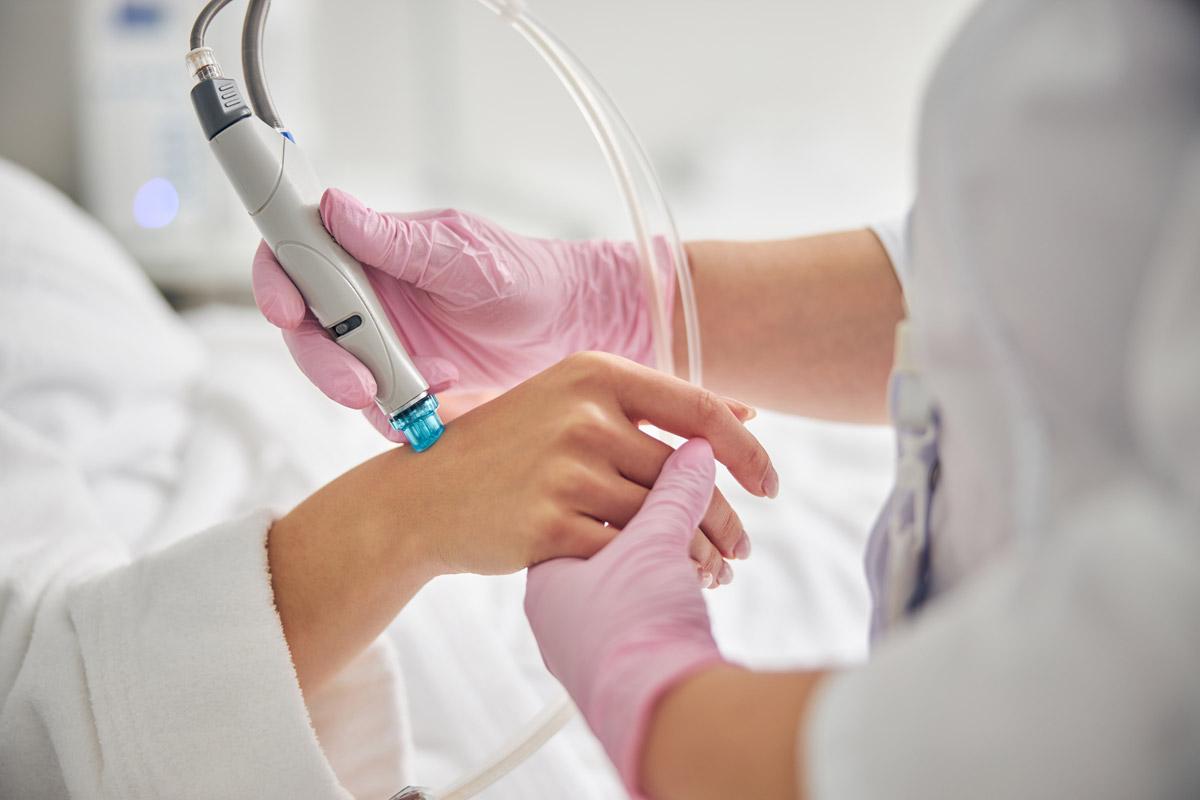 What we can correct and prevent with Bela MD 6-in-1 Advanced Hydra Facials
Acne
Fine lines and wrinkles
Premature aging
Pigmentation and uneven skin tone
Dry skin
Texture
Large pores and congestion
Areas we can treat
Face
Neck
Décolletage
Back
How many treatments do I need?
Although each person is different, the average treatment is a series of six with one treatment every three weeks. In order to maintain results, maintenance treatments are recommended, depending upon your skin type.
How long does it take?
Generally, treating the full face takes approximately 45 minutes to 1 hour to complete. For larger areas, time will depend on the size of the area to be treated.
How soon will I see the results?
The results are apparent immediately, and get more pronounced over several days after your treatment.
How much does it cost?
The cost of 1 combination treatment is $300. Package pricing is available.
Book your Bela MD 6-in-1 Advanced Hydra Facial