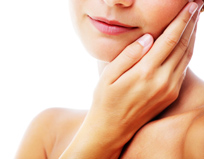 Can I get a Silkpeel or microdermabrasion treatment while on Accutane or Retin-A?
Magdalena, our Patient Coordinator answers:
"If you are on Retin-A, Renova, Differin or Tazorac, discontinue using these and similar topical medication 1 week before treatment.
If you are on Accutane, you cannot undergo any treatments, including Silkpeel and microdermabrasion. You must stop Accutane 6 months prior to starting any treatments."
Silkpeel Dermalinfusion safely and gently removes dead skin cells and other debris that make your skin look dull, giving you a refreshed look and reducing acne and wrinkles. Silkpeel can be performed on face, neckline, arms and hands.