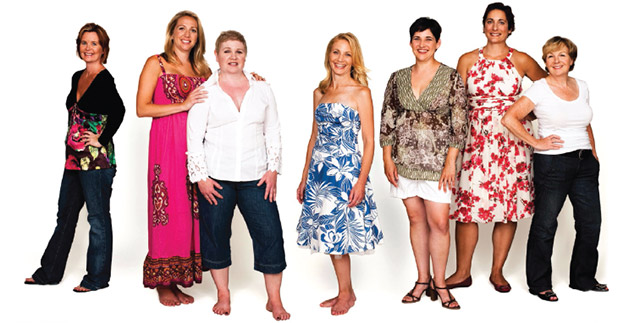 by Sandra MacGregor
For most women, being diagnosed with breast cancer can trigger a complex spectrum of physical and emotional reactions that go well beyond obvious health concerns. This is true because breasts are not only part of the female sexual identity but they are often inextricably linked to a woman's very sense of self.

Thanks to an array of educational campaigns and events over the past decade, breast cancer awareness continues to increase. Much less well-known, unfortunately, are a woman's options regarding breast reconstruction. This lack of awareness affects not just breast cancer survivors who have undergone mastectomies, but also those who have elected to have the procedure because they have a family history or carry the genetic marker for the disease.

Toronto plastic surgeon Doctor Mitch Brown is all too aware of cancer survivors' lack of information about their options. So passionate is his belief in the issue, that in 2011 he founded Breast Reconstruction Awareness (BRA) Day. "BRA is based on the idea that women in Canada and throughout the world don't have Knowing Your Options a full understanding of the opportunity for breast reconstruction," says Dr. Brown.

Dr. Brown emphasizes that, though breast reconstruction is an individual choice and may not be right for all women, it's an important issue because, "…for those who are candidates for the procedure, it can have a significant positive impact on their quality of life."

Immediate breast reconstruction

Of special interest for mastectomy patients is the growing popularity of immediate breast reconstruction. "Immediate breast reconstruction is when reconstruction is either started or done completely at the same time as a mastectomy," explains Doctor Peter Lennox, a Vancouver-based plastic surgeon. This option is significant because it allows patients to spend less time in surgery. "The goal is to reduce the number of operative procedures a person requires in an effort to help reduce the emotional or psychological impact of having a mastectomy and hopefully to give the patient a better outcome," says Dr. Lennox.

Dr. Lennox also notes that awareness and access to immediate breast reconstruction surgery is dependent on where one lives in Canada. In Vancouver, mastectomy patients are routinely informed about the surgical option. He also points out that the ideal candidate for immediate breast reconstruction likewise varies; noting that some plastic surgeons believe the majority of mastectomy patients would be eligible for the procedure. In Doctor Brown's opinion, however, the best candidates for immediate breast reconstruction, are "…women who've had preventative mastectomies…or those where the cancer was detected at an early stage so there is a low likelihood of chemotherapy or radiation after the mastectomy."

What isn't dependent on where one lives in Canada, however, is the cost of breast reconstruction surgery. The procedure is a medical service that is completely covered under each province's health care plan.