Restore your complexion, soothe, smooth, and tighten the skin with one of our Medical Grade Facials.
Ultimate Hydrating Facial
Hydrate and rejuvenate moisture-depleted skin
This elegant treatment begins with a gentle hydrating cleansing and micro-exfoliation to remove surface debris. Using mulberry, licorice and bearberry extracts, with kojic and lactic acids, the skin is prepped for a triple action resurfacing process to enhance brightness and clarity, as well as to address skin texture, fine lines and wrinkles.
ZO® Aloe Hydra gel, with cucumber and chamomile, is applied to cool, calm and soothe the skin, followed by pressure point massage manipulations to minimize facial stress and maximize relaxation.
The treatment finishes with DNA repairing enzymes, hydrators and sun protection enhanced with natural melanin.
Skin is vibrantly clear, firm, strengthened and protected.
This facial may be combined with a hydrating hand treatment.  The hand treatment begins with ZO Oraser Renewal scrub to remove dead surface cells.  Utilizing sugar crystals, shea, mango butter and safflower oil, this scrub is ideal for exfoliating and hydrating dry and damaged skin.  This will be followed by a hydrating hand massage using ZO Oraser Daily Hand Repair SPF 20, to l leave your hands looking younger, smoother and glowing.
What does it do?
Focus is on dry skin; includes a brightening mask
Treatment Time
This treatment is one hour
What is the cost?
$200 facial / $225 facial with hand treatment
Brightening Facial Treatment
Restore skin clarity, reduce pigment spots and discoloration
This brightening treatment creates a radiant, more even skin tone and texture with citric, salicylic and lactic acids to increase skin brightness, clarity and minimize pore size. A moisture-rich cleansing and mild exfoliation is followed by a vitamin-fortified calming massage. To further brighten the skin, the Ossential® Skin Brightening Sheet Masque, with arbutin and green tea, is applied to minimize the production of excess skin pigment and supply ample hydration to the tissue.
The treatment concludes with powerful ZO® antioxidants, coenzymes and sun protection to inhibit melanin production and stimulate the growth of healthy cells.
What does it do?
Exfoliation/toning/hydration with a brightening mask
Treatment Time
This treatment is one hour long
What is the cost?
$175
Acne and Oil Control Treatment
Minimize oil production, large pores and inflammation
Cleansing gently removes impurities, followed by a micro-scrub to prepare the skin to easily address the extraction process by removing remaining debris from the skin's surface. A combination of AHA's and salicylic acid are used to minimize excess oil production and tighten pores. Using an oil-free gel with a special blend of moisture factors, fatty acids and amino acids, a calming massage is performed.
Healing is encouraged and inflammation minimized with our exclusive ZO® Bio-Sulfur Masque that adds eucalyptus and kaolin for antiseptic and detoxifying benefits. Calm, clear and healthier oil-free skin is revealed.
The treatment finishes with antioxidants, DNA repairing enzymes and powerful sun protection using natural melanin, zinc oxide and titanium dioxide to minimize acne scarring. Skin is visibly clean, clear and calm.
What does it do?
Calms inflamed skin, facilitates the extraction process, reduces oil production and tightens pores
Treatment Time
This treatment is one hour long
What is the cost?
$175
Stimulator Peel Treatment
The perfect "lunchtime" peel with no downtime!
This revolutionary beta/alpha acid spa peel stimulates cellular turnover, reducing fine lines and wrinkles and improving overall skin tone, texture and clarity without downtime.
Treatment Time
This treatment is 30 minutes long
What is the cost?
$175
SilkPeel Treatment combined with Facial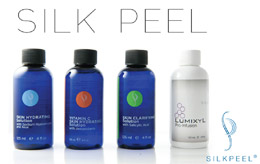 Any of the above treatments may be combined with a SilkPeel for a more effective result. Combination treatments are available to target these issues:
Pigmentation
Rosacea
Anti-aging
Oxygenating
Acne
Please contact us for further details on SilkPeel + Facial Combination Treatments.